I
f there was a lesson to be learned from V-Ball Day 1.0, it's that endurance drinking is entirely possible. I did it the right way this time though, start slow; end strong. Everyone got there around one. It was mostly the usual suspects, the Nicks, the Mikes, The A-Team. But the star of the show was the keg. The keg stands started pretty early. Then came the funnel. I was sipping my water and saw the drunkeness slowly coming over everyone. Especially Jose. He went from unfunny, to annoying, to obnoxious, to fucking hilarious.
[Random Jose Line]

Ashley: God, I'm geting drunk.
Jose: So...
Ashley: Well, I work with you guys!
Jose: Really!? Oh shit dude. I think I'm trippin man.
Camilio came through with the grub. He was slaving over the grill the whole day. Big-ups yourself. The chicken kabobs went off like gangbusters. Much better than last time when chef JR cooked up some questionable hamburgers from the mystery meat market. Everyone loved the Jello shots. Well... not exactly. Jello shots are an odd party item. They're cool by design. The idea of having Jello shots is usually better than actually swallowing one. Thats probably why half of them ended up on the floor.
And speaking of having fun. Someone had the bright idea of bringing some nerf-type footballs that can be drenched in water. It was funny at first. But after a while it was a fucking war zone. All the chicks moved out of the way while the guys stayed and tried to take each others' heads off. And you know I couldn't have the girls leave, so I had to can that one. Next someone brought out some little water guns. They filled them with every liquid in the area. Pool water, beer, apple juice, rancid liquor, and who knows what else. It was fun at first, but again, it got way out of hand. You couldn't go anywhere without being ambushed from a thousand different directions. Half the time I didn't even know who was squirting me. I had to can that one too. I got to thinking, is there anything that can be introduced to this party that won't get out of hand? I wanted to bring out a crochet set, but then imagined the guys eventually trying to stab each other in the neck with the needles.
The after party (yeah, we don't know how to stop) at Krissy's was jumping out too. She hooked it up with the pony keg. which lasted about 30 minutes so that was cool.
Camilio hooked it up with the birthday cake. Pablo was happy, so it was a great success. I'm pretty sure everyone had a good time. All in all, I was happy with the turn out. Now, I'm wondering how to top this one. I know! No freakin water guns!
Awards:
Most obnoxious drunk: Jose. There really is no slight buzz with him. It's either sober or running around screaming racial and sexist epithets.
Hottest body: Heather. That flower bikini fit them curves just right. Nuff said.
Most embarassing drunken moment: Lola spraining her ankle. She was running around being a goof and fell down. Sam tried to pick her up. She jumped up and apparently forgot how to plant her two feet on the ground and busted her ass.
Best body on the V-Ball court: Mike B. The guy must've been keeping up on his crunches. (I'm sure he got some sexy-time with abs like that)
Most annoying couple: JR and Lola. If I hear them fight over something stupid again, I'm gonna hemorrhage. Lola, "Where are you going?" JR"What does it matter?" Lola" Why do have to be like that?" JR"Why do YOU have to be like that?" Somebody shoot me, please.
Most improved: Danielle and Krissy. I guess Vegas exposure did them well. They were looking hot, and surprisingly friendly. It was good to see momma mingling with the common folk. I think she even played some V-Ball. No counter dancing though :( And good looking out ladies with the after-party. Nice bed too.
(
editor's note: Turns out the girls got a full keg too. No ponies here.
)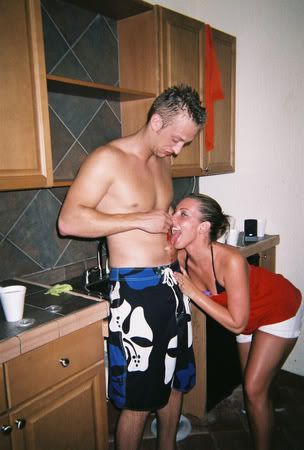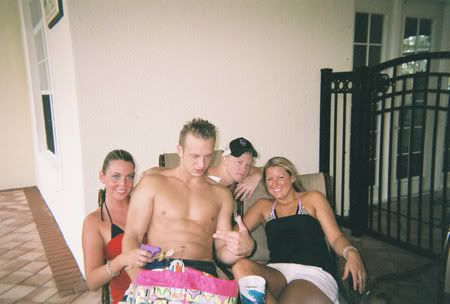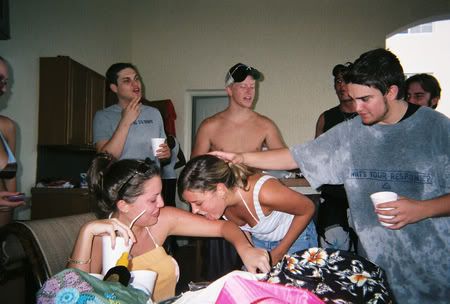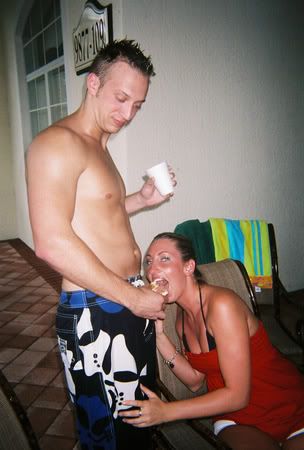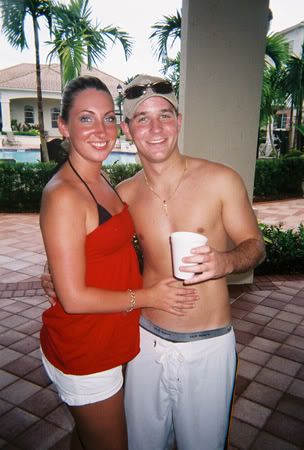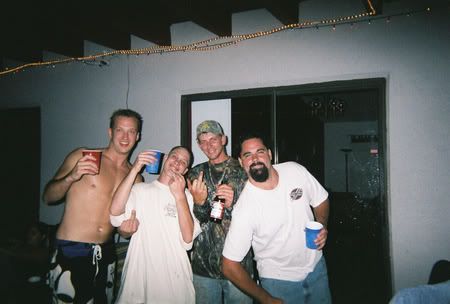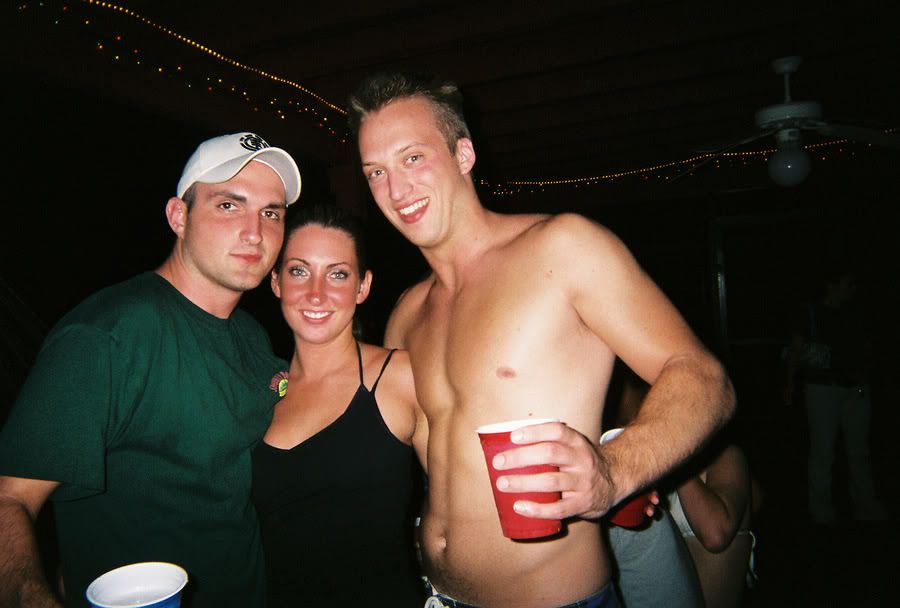 (more pics at
Danielle's Photobucket
)