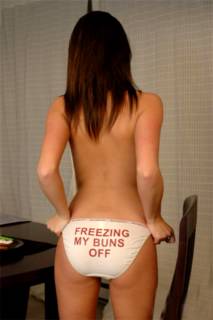 C
hristmas just isn't fun anymore. It's turning into a real pain in my ass. I don't have any money, but come Chirstmas Day my whole family is going to be waiting for me to shower them with gifts that I am able to pay for with my lucrative position at
Smokey Bones Sports Bar & Grill
. And it doesn't help that I have six brothers and sisters. I was gonna go shopping but then I realized that if I buy gifts then I won't be able to pay for my January tuition.
And why is it so damn
cold
. I thought this was south Florida, home of the barbeque Christmas. No seriously, a couple of years ago we went to the beach on Christmas Eve. Now I'm freezing my nads off.
You know what else makes Christmas suck, all the
fighting
over what to call it. One side says we should say Merry Christmas the other side says Seasons Greetings. Enough already with the bullshit. We'll just cancel the whole thing until you kids can learn to play together. Meanwhile our boys are dying in Iraq in
record numbers
. But forget about that, the real fight is trying to keep Christ in Christmas.
I'm not doing anything festive this year. I am going to sit here and play some
Tontie
. My high score now is 76940 @ level 15 bitches.